Looking for a sporty Jeep that is tough on the outside, luxurious on the inside, yet easy-to-drive and maneuver? Take a closer look at the 2017 Jeep Renegade models we have here on our lot at Bodwell Chrysler Jeep Dodge Ram.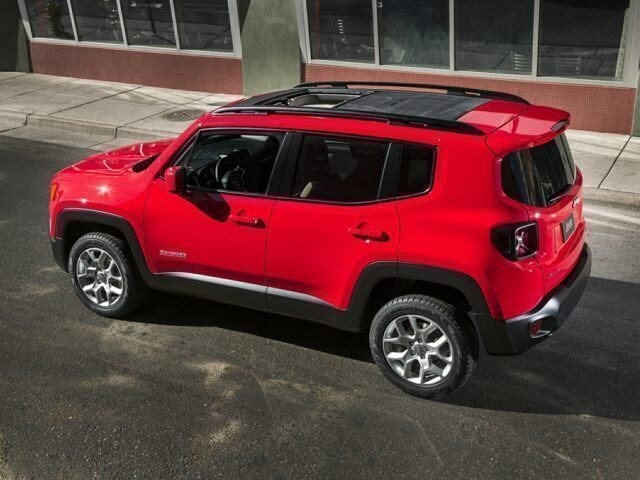 There are countless reasons to love the subcompact Jeep Renegade. But, here are just the top six we can think of right off the top:
Size matters. The Jeep Renegade is described as a subcompact SUV crossover. Its small stature makes it easy to maneuver on city streets, and it's a dream to park. But, it's still a Jeep and therefore has a lot of the rugged and sporty qualities you expect in a Jeep brand car.
Blue skies are smiling. The Jeep Renegade has an optional feature that makes driving this car feel like driving the classic convertible Jeep Wrangler. Renegades have an available "My Sky" system of removal sunroof panels. Pop them off and the sky's the limit.
Flexible customization. The Jeep Renegade has a number of trim levels drivers can choose from, and most are available in your choice of either front-wheel drive or four-wheel drive, so you can really tailor your Renegade to your specifications.
Off-road ready. The Renegade is a Jeep, after all. The model's Trailhawk trim is four-wheel drive only and has raised suspension and all-terrain tires for all of your adventurous road trip travels.
Safety features. The Jeep Renegade is also a safe car for you and your family. The Jeep company loads up each model they make with state-of-the-art safety features. Plus, for 2017, several of the Jeep Renegade trims get automatic emergency braking standard. That's years ahead of a government deadline issued to carmakers to have all cars installed with automatic emergency braking.
Spaciousness. The Jeep Renegade may be small, but it doesn't skimp on interior space. The seating areas are comfy and made with high-quality materials, and the cargo area can hold up to 50.8 cubic feet of gear with the rear seats folded.
To see all these and all the other reasons why we love the Jeep Renegade here in Brunswick, stop by soon and see our entire collection in stock on our new car lot.