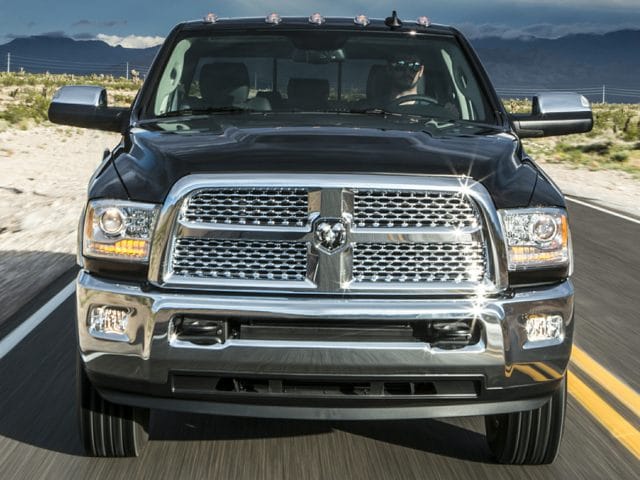 Can the Ram 2500 Compete with its Sizable Competition?
Hefty hauling, super duty trucks aren't just driven around from point to point but have a job to do. These muscular, heavy load conquerors are built to put in a hard day's work, all while outputting the desired modern comforting ambiance. Part workhorse and part luxe limousine,  boisterous trucks like the Ram 2500, Ford F-250 and Toyota Tundra are destined to tackle whatever chaos you throw their way with ease.
There is just one question prospective buyers have: Which truck should you choose? The answer involves a little research and a few side-by-side comparisons, which we at Bodwell Chrysler Jeep Dodge Ram are happy to do for you. We went ahead and placed our own Ram 2500 up against its formidable Ford and Toyota competition. By juxtaposing the crew cab of each  truck, we hope to have made finalizing your truck choice that much easier.
The Ram 2500 vs. the Ford F-250
The Ram 2500 boasts a more affordable starting price.
The Ram 2500 is able to seat six, while the Ford F-250 can only seat five.
With its V8 engine, the Ram 2500 unleashes more power.
The Ram 2500 has substantially greater payload potential than the Ford F-250 at 3,064 lbs versus 1,610 lbs respectively.
With its extensive exterior paints, the Ram 2500 welcomes more ways for you to customize.
The Ram 2500 vs. the Toyota Tundra
The Ram 2500 is more appealing to those on a tight budget.
At 383 horsepower and  400 pound-feet of torque, the Ram 2500 outputs more power.
The Ram 2500 is more comforting for taller passengers, courtesy of its additional front head room.
The Ram 2500 offers 17,370 lbs in towing, while the Toyota Tundra offers only 6,700 lbs
At 3,064 lbs, the Ram 2500 also has greater payload than the Toyota Tundra and its 1,540 lbs.
If you want something that'll truely get some work done, then look no further than the Ram 2500. Consider making it yours at Bodwell Chrysler Jeep Dodge Ram here in Brunswick. Make the short drive over from Lewiston, Auburn, Topsham, and Bath ME to our new Ram showroom for a test drive today.