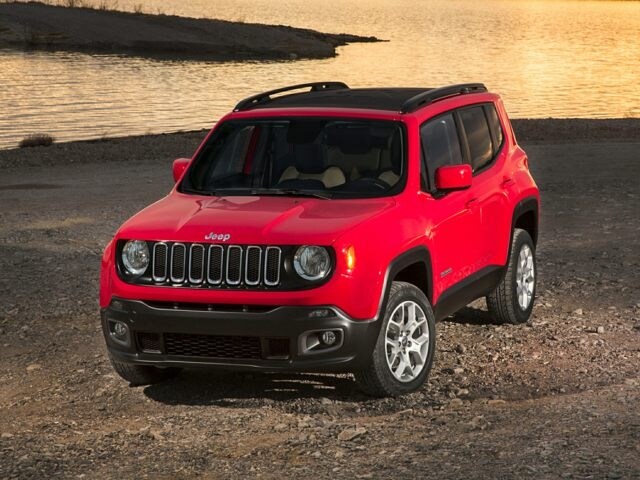 Experience Modern Off-Roading Capabilities with the Jeep Renegade in Brunswick, ME
In its sophomore year, the new Jeep Renegade continues to incorporate traditional Jeep virtues into a subcompact package.  Its spunky circumstance is punctuated by decadent cabin comforts, generous modern equipment, agile handling and fluid all-terrain maneuverability. Cemented into its segment with the playful styling and strong off-roading possibilities to appease both Jeep brand enthusiasts and non-enthusiasts alike, the Jeep Renegade is unlike anything currently be driven on the road.
Join us here in Brunswick, where we are conveniently able to serve the Lewiston, Auburn, Topsham and Bath region, to make the Jeep Renegade yours today.
Easily Get Established with a Loan or Lease Here in Brunswick
The last step to finalizing your Jeep Renegade is car financing which we make incredibly easy to do. In our finance center, you are greeted by friendly and experienced associates that'll work to ensure you are established with agreeable financing terms. Good, bad or no credit--our financing team will provide you a loan or lease that won't completely empty your bank account.
Welcoming new pleasantries like a nine-speaker premium audio system and automatic wipers, the 2016 Jeep Renegade provides even more reasons to consider it as your next mode of transport. Although a relatively fresh face, the latest Jeep Renegade's abundance of character, dynamic drivability and technology fluency pave the way for its ongoing market success.
Here at Bodwell Chrysler Jeep Dodge Ram, we are thrilled to have this cute, toylike wayfarer in our new Jeep inventory. Easily explore its latest and greatest offerings, courtesy of our  extensive availability of its various trims (Sport, Trailhawk, Limited and Latitude) and competitive prices, and slip behind the wheel without experiencing stereotypically burdensome car buying stressors.
So go right ahead, and see what our current selection can offer you.